Introduction
Navigating the rules and regulations around safety in construction can be a daunting task. But for those working in New York City, it's crucial to be familiar with the Training Connect SST Card. This essential tool, born out of local legislation, ensures construction workers have completed the necessary safety training to work safely and efficiently on construction sites. This guide provides a comprehensive overview of the SST Card, including who needs it, how to get one, and the training requirements necessary.
New York City Local Law 196 (LL196) of 2017
The Training Connect SST Card was developed in response to Local Law 196, aimed at improving safety standards for workers and supervisors in construction sites across the five boroughs of New York City. This law mandates that all construction and demolition workers carry a valid SST Card, showing that they have received the appropriate safety training.
This law applies requires that construction and demolition workers on job sites with a Construction Superintendent, Site Safety Coordinator, or Site Safety Manager must have completed 40 hours of training. To find out if your job site has the safety training requirements, please visit the Site Safety Construction Map and enter your job site address.
Note: if you are a construction or demolition worker who requires site safety training, you must also complete the Site Safety Orientations and Pre-Shift Safety Meetings required by Sections 3301.11 and 3301.12 of the New York City Building Code.
What is an SST Card (Site Safety Training Card)?
An SST Card, short for Site Safety Training Card, is a standardized safety training card designed to hold worker regulatory requirements under Local Law 196. The card is equipped with Near-Field Communication (NFC) technology, allowing for instant verification of a worker's training history and safety qualifications by Department of Buildings (DOB) enforcement agents on-site.
The card, overseen by the New York City Department of Buildings (DOB), serves as proof that you have undergone the necessary safety training before starting work on a construction site. The SST Card comes in two types:
Site Safety (Worker) SST Card: Required for all construction and demolition workers. This card demands a minimum of 40 credits.
Supervisor SST Card: Designed for all supervisors, this card requires 62 credits.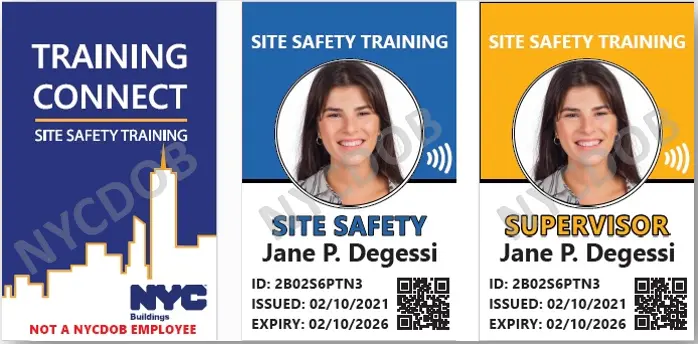 Who needs an SST Card?
All construction and demolition workers operating within the five boroughs are required to get a valid Training Connect SST card, issued by a DOB-approved course provider. This also includes construction supervisors, who are required to undergo more extensive training.
It is important to note that even if you are a professional engineer, architect, or hold other Department licenses or registrations, you are required to have the appropriate training if you serve in roles such as Site Safety Manager, Site Safety Coordinator, Concrete Safety Manager, Construction Superintendent, or a competent person designated by a Construction Superintendent.
However, there are exceptions for roles such as delivery persons, flag persons, and others who are not directly involved in construction activities. Workers under the direct and continuing supervision of Department-licensees also need to be trained.
How do I get an SST Card?
Getting an SST card involves completing the required hours of safety training. The specific training and hours needed depend on whether you have an OSHA 30-Hour Card or an OSHA 10-Hour Card.
For workers, you'll need to complete 40 hours of safety training to receive a Full SST Card. This can be achieved through either an OSHA 10-Hour Course with 30 hours of additional training, an OSHA 30-Hour Course with 10 hours of additional training, or a 100-hour training program approved by the DOB.
For Supervisors, you'll need to complete 62 hours of safety training, including an OSHA 30-Hour Course and additional specified trainings.
To find a training location near you, please visit the DOB Course Training Locations Map. Once you've completed the necessary training, you can apply for your SST Card through a DOB-approved course provider. A list of approved providers can be found here.
If you're a small business owner in the construction industry, you may be eligible for free training provided by the NYC Department of Small Business Services (SBS). Visit their website or call 311 for more information.
How long is an SST Card valid for?
Once you've completed the training and received your SST Card, it's crucial to remember that this card is not valid indefinitely. SST cards expire after five years.
To maintain the validity of your card and continue working in compliance with the New York City's safety regulations, you need to enroll in a refresher course and renew your SST card.
This ongoing training ensures that all construction and demolition workers stay up-to-date with the latest safety protocols and regulations, which are designed to protect not only the workers themselves but also the general public and the integrity of the city's infrastructure.
What happens if I don't have an SST Card?
If you're a construction or demolition worker in New York City and don't have an SST Card, or if you're found on a job site without your card, there could be significant consequences.
While the Department of Buildings (DOB) will not issue violations directly to workers, the owner, the permit holders for the construction site and the employer of the untrained worker are responsible for ensuring that all workers on site have been properly trained and have valid SST Cards. If the DOB finds untrained workers on a site, or workers who do not have their SST Cards on their person, they will issue a violation.
Violations come with civil penalties that can be as high as $5,000 per untrained worker. Therefore, it's in the best interest of everyone involved in a construction project to ensure that all workers are adequately trained and carry valid SST Cards at all times.
Conclusion
The Site Safety Training (SST) Card is more than just a regulatory requirement; it's an essential component of maintaining safe and compliant construction sites across New York City. As owner, permit holder or employer, it's your responsibility to ensure that all workers on site, including subcontractors, have valid SST Cards and have undergone the necessary safety training.
Failing to verify the validity of SST Cards can lead to serious consequences, including hefty fines up to $5,000 per untrained worker. Furthermore, having untrained workers on site poses significant safety and liability risks, which could result in claims, accidents, injuries, or even fatalities.
Beyond meeting regulatory requirements and avoiding penalties, ensuring all workers possess a valid SST Card is a testament to your commitment to creating a safe and healthy working environment. By prioritizing worker training, you are investing in the well-being of your employees and contributing to safer construction practices throughout the city.
Remember, safety isn't just about compliance - it's about protecting lives and promoting a culture of responsible, secure, and productive work within the construction industry.