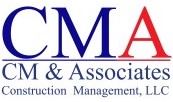 CMA was founded in 2005 by Christopher Mesbah, who has been working in the construction industry for over 30 years. As Owner and President, along with his core management team, they lead a cohesive and dynamic staff with backgrounds in Architecture, Engineering, Construction Management and Landscape Architecture. For almost 20 years, CMA has consistently provided exceptional client service to the Commercial, Luxury Residential, Institutional, Educational, and Hospitality market sectors.
Problem
Being at the forefront of construction management, CMA grappled with a persistent yet challenging issue that's rampant in the industry: managing the heavy load of paperwork and documentation necessary for safety and compliance across diverse job sites. Upholding stringent safety protocols with subcontractors and workers, along with the management of the generation, review, and validation of critical safety compliance documents and paperwork, had become an exceedingly overwhelming and time-consuming task. The magnitude and intricacy of these duties posed a risk to the smooth functioning of their projects.
Solution
By integrating SafetyClerk, the industry-leading cloud-based platform engineered to simplify safety and compliance, CMA substantially transformed their safety and compliance procedures. After an effective trial run with SafetyClerk at the 262 Fifth Avenue project, CMA realized the significance and benefits of the platform and opted to incorporate it into all their projects. This digital overhaul impacted all facets of safety and compliance processes: Jobsite Orientations, Permits management, Safety Toolbox Talk, Subcontractor Pre-Shift Meeting Logs with Job Hazard Analysis, Site Safety Manager Daily Logs, Superintendent Daily Logs, Fire Safety Manager Daily Logs, Fire Safety Manager Standpipe Inspection Sidewalk Shed Logs, and more.
Results
Integrating SafetyClerk has resulted in considerable enhancements to CMA's safety and compliance operations. The firm experienced a significant reduction in the resources and time spent on safety paperwork, alongside a noticeable improvement in quality standards. The firm replaced traditional, labor-intensive duties such as scanning, printing, and getting signatures with a streamlined digital process. Workers can now effortlessly review and digitally sign documents directly from their mobile devices. SafetyClerk's transparent and orderly system offers immense benefits to CMA. All safety-related documents are easily retrievable and systematically stored for quick information access. This attribute not only optimizes efficiency but also enables CMA to underscore their steadfast commitment to safety to their workforce, clients, and insurance providers.