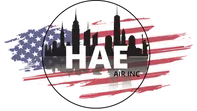 HAE AIR stands as a premier provider of HVAC services in Manhattan, Long Island, Brooklyn, and Queens. Bringing over thirty years of industry experience, the company was founded with the goal of providing outstanding comfort solutions. Over the past three decades, HAE AIR has built a strong reputation for delivering superior heating and cooling services. They excel in installing, repairing, and maintaining heating and air conditioning systems for a range of residential and commercial properties.
Problem
As a subcontractor managing multiple construction projects, HAE AIR found the task of daily production of several logs and safety-related paperwork quite taxing. The documentation process for Safety Toolbox Talks, Pre-Shift Meetings, Job Hazard Analysis (JHA), and other safety and compliance-related logs was both overwhelming and time-consuming. This significant administrative burden was diverting their foremen's time and attention away from crucial on-site duties.
Solution
To streamline their compliance and safety processes, HAE AIR made the strategic decision to embed SafetyClerk into their operations. This integration has resulted in significant time savings for their workforce by digitizing and simplifying all related procedures. Now, foremen and workers can comfortably generate, transmit, and review safety and compliance documents on their mobile devices at their own convenience. SafetyClerk has automated the sharing of these documents with the Construction Manager company, further enhancing operational efficiency.
Results
After integrating SafetyClerk into their workflow, HAE AIR witnessed a substantial decrease in the time and resources dedicated to compliance and safety paperwork throughout their projects. SafetyClerk's organizational and transparency features have transformed their operations, ensuring all reports and logs are readily accessible.